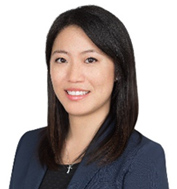 CHRISTINA CHYOU
Paralegal/Case Manager
Christina is on leave of absence through the summer of 2020
---
Direct: 949-878-9412
Fax: 949-878-9420
Email: christina@vfos.com
Christina joined the Voorhees Family Office Services ("VFOS") team in November of 2018 as a Case Manager. In her role, she actively assists clients and attorneys in legal matters. Her passion is to help clients identify and achieve their goals. She seeks to optimize the client experience throughout the estate planning process. She believes every client is unique and works to customize a personal plan to help each client minimize taxes while maximizing wealth available for lifestyle, family and favorite charities.
As a Case Manager, Christina helps keep clients well-informed about their case status and provides an array of support services. She maintains checklists of next actions, oversees the collection of necessary planning documents, and answers questions clients may have. Her duties also include supporting attorneys, CFPs, and other professionals united to achieve clients' estate planning goals.
Prior to joining VFOS, Christina worked as a client specialist and legal assistant at estate planning firms. She successfully completed several internships during law school.
Christina spent her childhood in Asia and grew up in Southern California. She earned a B.A. in Business Economics from UC Irvine. She recently completed J.D. at Trinity Law School. In addition, she serves as a notary public and speaks fluent Mandarin. Christina enjoys traveling, volunteering, and exploring new restaurants and outdoor activities.
Please feel free to call Christina at (949) 878-9412. Christina looks forward to working with you.